Cornmeal is made from corn, a food that has been grown by some Indigenous communities and in Canada for a long time. Serve these muffins with your favourite side of fruit.






Ingredients
190 mL (¾ cup) whole milk
15 mL (1 tbsp) lemon juice  
375 mL (1 ½ cups) whole wheat flour
125 mL (½ cup) yellow cornmeal
125 mL (½ cup) sugar
10 mL (2 tsp) baking powder
5 mL (1 tsp) salt
250 mL (1 cup) frozen or fresh blueberries 
2 eggs
7 mL (½ tbsp) vanilla extract 
125 mL (½ cup) sour cream
Zest of 1 lemon (about 7 mL/½ tbsp)
125 mL (½ cup) sunflower oil 
Directions
Preheat the oven to 175°C (350°F). Line a muffin pan with silicon liners or use non-stick spray. 
Prepare buttermilk by combining milk and lemon juice. Let sit for 10 minutes. 
In a large bowl, whisk together flour, cornmeal, sugar, baking powder, and salt.
In a small bowl, place blueberries and toss with 5 mL (1 tsp) of flour mixture. Set aside.
In a separate bowl, whisk together eggs, buttermilk, vanilla, sour cream, and lemon zest. Add to dry ingredients, along with sunflower oil. Stir until just blended; and then fold in blueberries. Do not overmix.
Spoon batter evenly into the prepared pan up to the top of each cup. Bake for 28 to 30 minutes, or until the tops are firm and golden around the edges. Cool muffins for a few minutes in the pan and then transfer to a wire rack to cool completely.
Tips
This simple recipe is great for involving little chefs at every step. It's always fun to whisk and mix ingredients together, and watch muffins rise in the oven. 

Use liners for muffin tins as blueberries tend to stick.

You can use other fresh or frozen berries such as raspberries, strawberries or blackberries. Frozen berries hold their shape when mixing and give the batter a nice touch of colour. 
More from the Food Guide Kitchen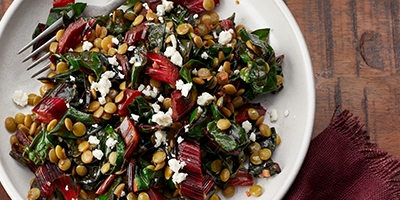 Subscribe to get the latest healthy eating updates.
Sign up now