This recipe is a simple, wholesome and spicy soup to prepare in big batches and freeze for busy weeknights. Serve with a slice of whole grain bread.






Ingredients
1 L (4 cups) lower sodium vegetable broth
1 L (4 cups) water
500 mL (2 cups) uncooked dried green or red lentils, rinsed and drained
20 mL (1 ½ tbsp) Cajun seasoning
250 mL (1 cup) yellow turnip, diced
2 carrots, diced
2 stalks celery, diced
1 onion, diced
2 mL (½ tsp) Worcestershire sauce
5 mL (1 tsp) fresh parsley, minced
Directions
In a large pot, combine vegetable broth, water, and lentils and bring to a boil. Lower heat to medium and stir in Cajun seasoning. Simmer for 15 minutes or until soft.
Add yellow turnip, carrots, celery and onion and simmer for 20 more minutes. Add water if soup becomes too thick.
Add Worcestershire sauce and parsley when ready to serve.
Tips
Make lower sodium Cajun seasoning by mixing 2 mL (½ tsp) each of cayenne, garlic powder, dried thyme, paprika, and black pepper with 1 mL (¼ tsp) each of onion powder and ground cumin. Add salt to taste.
If you're pressed on time, use canned instead of dry lentils. Drain and rinse them before adding at step 1.
Try making this recipe with different legumes. Soak chickpeas or black beans overnight before cooking on medium heat for 30 minutes at step 1.
Store leftover soup for up to 3 days in the refrigerator or up to 3 months in the freezer. If frozen, thaw in the refrigerator overnight and heat.
More from the Food Guide Kitchen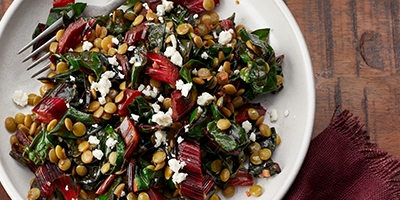 Subscribe to get the latest healthy eating updates.
Sign up now