A bowl of this chicken and vegetable soup is sure to warm you up on a chilly day. Try it using any vegetables you have at home. 






Ingredients
1 ¼ L (5 cups) water

1 onion, sliced

2 mL (½ tsp) whole black peppercorns

2 dried bay leaves

15 mL (1 tbsp) lemon juice

2 boneless skinless chicken breasts (about 285 g)

¼ head cabbage, thinly sliced

1 head broccoli, cut into small florets

1 carrot, thinly sliced

125 mL (½ cup) sliced mushrooms

Salt to taste
Directions
In a medium pot with a lid, bring the water to a boil.  Add the onion, peppercorns, bay leaves, and lemon juice. Reduce heat to low.

Add the chicken and partially cover with lid.  Poach chicken for 5 to 7 minutes, turning over once to cook evenly on both sides. 

Using a slotted spoon, remove the bay leaves and peppercorns and discard. Add the cabbage, broccoli, carrot, and mushrooms.

Cover and simmer for 10 minutes.

Use a

digital food thermometer

to check that the chicken has reached an internal temperature of 74 °C (165 °F).

Slice the chicken and return to the pot. Gently reheat on low heat for 4 minutes. Serve hot and season with salt to taste.
Tips
Use any other vegetable you have in the kitchen! Try asparagus, kale, snow peas, celery, fennel or collard greens.

Do you have leftover cooked fish? Replace chicken for cooked fish by adding it at step 1 and skipping step 2. 

Ask your little chefs to help you squeeze the lemon juice and cut the broccoli florets. 

Store soup for up to 3 days in the refrigerator and 3 months in the freezer. When ready to eat, thaw soup in refrigerator overnight and heat to a serving temperature of 74 °C (165 °F) or higher. 

Remember, a little salt goes a long way. Taste the food before adding any salt.
More from the Food Guide Kitchen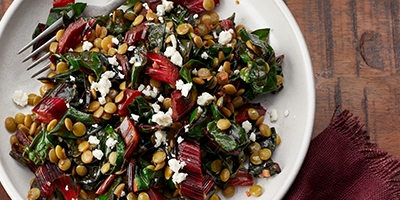 Subscribe to get the latest healthy eating updates.
Sign up now