These fragrant noodles are the perfect side dish for your favourite protein food and vegetables. They are quick to make and can add a spicy kick to your meal.






Ingredients
500 mL (2 cups) scallions (green onions), roots trimmed, thinly sliced (about 2 bunches) 
125 mL (½ cup) fresh ginger, peeled and minced
15 mL (1 tbsp) vegetable oil
15 mL (1 tbsp) lower sodium soy sauce
5 mL (1 tsp) rice vinegar
1 package (454 g) uncooked brown rice noodles
Directions
In a large bowl, combine scallions, ginger, oil, soy sauce, and vinegar. Rest at room temperature for 20 minutes, stirring occasionally.
While sauce rests, cook noodles in boiling water according to package directions or until tender. Drain noodles and place in a large bowl. 
Pour half the sauce over noodles and toss gently to coat well.
Serve noodles and top with remaining sauce as desired. 
Tips
Invite your kids to the kitchen to get involved in planning the meal! Ask them to pick a protein food and a vegetable to serve with this dish. 
If you're out of brown rice noodles, try using brown rice. Simply spoon the ginger scallion sauce from step 1 over the rice. 
Remember, a little salt goes a long way. Taste the food before adding any.
More from the Food Guide Kitchen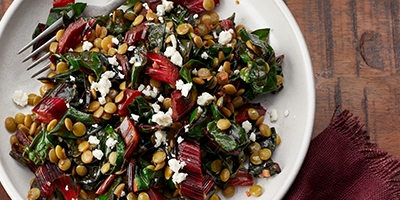 Subscribe to get the latest healthy eating updates.
Sign up now