These cheesy and creamy egg wraps are perfect for lunch and packed with protein. Serve with vegetable sticks such as carrots and cucumbers. 






Ingredients
125 mL (½ cup) whole grain couscous
1 clove garlic, minced
2 mL (½ tsp) dried thyme or Italian herb seasoning
175 mL (¾ cup) lower sodium vegetable or chicken broth
60 mL (¼ cup) each grated carrot and zucchini or diced bell pepper
3 hard cooked eggs, peeled
85 mL (⅓ cup) 0% fat plain Greek yogurt
125 mL (½ cup) quartered grape tomatoes
60 mL (¼ cup) crumbled light feta cheese
45 mL (3 tbsp) chopped fresh basil or parsley
1 mL (¼ tsp) fresh ground pepper
4 small whole grain flour tortillas
Directions
Place couscous in a bowl with garlic and thyme. Bring broth to a boil and pour over couscous. Stir in carrot and zucchini; cover and let stand for 5 minutes.
Meanwhile, in another bowl, mash eggs with a fork and stir in yogurt, tomatoes, feta, basil and pepper. Add couscous mixture and stir to combine.
Divide among the tortillas and roll up to enjoy.
Tips
Out of broth? No worries. Use water instead. This will also help cut down on sodium.
Make wraps the night before and store in an airtight container. Keep in the fridge and grab one as you head out the door.
Switch up your cheese. Try goat cheese or ricotta instead of the feta for a flavour twist.
For perfect eggs, cover with water in a pot and bring to boil. Remove from heat, let stand covered for 15 to 20 minutes. Drain then chill under cold water. Can store unshelled in fridge up to 1 week.
More from the Food Guide Kitchen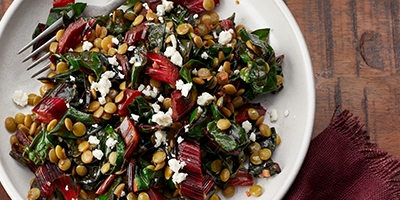 Subscribe to get the latest healthy eating updates.
Sign up now