This recipe plays on the savoury umami flavour found in many Asian cuisines. See for yourself!






Ingredients
Marinated eggs:
4 eggs

3 cloves garlic, crushed

2 mL (½ tsp) red pepper flakes

125 mL (½ cup) lower sodium soy sauce

30 mL (2 tbsp) maple syrup

20 mL (1 ½ tbsp) rice vinegar

500 mL (2 cups) water
Miso soup:
20 mL (1 ½ tbsp) sesame oil

2 cloves garlic, minced

20 mL (1 ½ tbsp) minced ginger

1 L (4 cups) lower sodium vegetable broth

500 mL (2 cups) water

45 mL (3 tbsp) white miso paste

5 mushrooms, sliced

1 carrot, thinly sliced

225 g/8 oz firm tofu, cubed

1 package (400 g/14 oz) whole wheat ramen noodles

2 green onions, sliced
Directions
Prepare marinated eggs:
Bring a pot of water to a boil and gently lower eggs into it. Soft boil eggs for 6 minutes. 

Using a slotted spoon, transfer eggs to a bowl of ice water and let cool. Peel and place in a medium container with a tight-fitting lid. 

In a small pot, combine garlic with red pepper flakes, soy sauce, maple syrup, rice vinegar, and water. Bring to a simmer and cook for 5 minutes. 

Pour marinade over eggs and let sit for at least 1 hour.
Prepare miso soup:
In a large pot, heat sesame oil over medium-high heat. Add garlic and ginger and sauté for 2 to 3 minutes. 

Stir in vegetable broth, water, and miso paste. Continue mixing until the miso paste is completely dissolved.  

Add mushrooms and carrot. Continue to simmer for 5 minutes. Add tofu. 

In a separate pot of water, cook noodles according to package instructions and add to the soup. 

Cut marinated eggs in half and serve in the soup. Top with green onions.
Tips
Invite your little chefs to the kitchen and help them learn new skills. Ask them to measure out ingredients for the marinade and mix them together. 

Although marinated eggs are the perfect accompaniment, boiled eggs or tofu are good substitutes.  

Since the marinade was not used for raw food, leftovers can be refrigerated and added to your next veggie stir-fry.

Marinate eggs overnight in the fridge to infuse them with stronger flavours.
More from the Food Guide Kitchen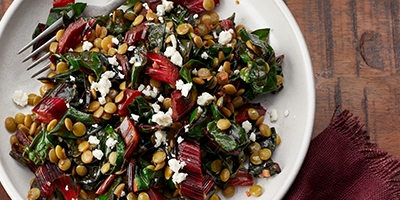 Subscribe to get the latest healthy eating updates.
Sign up now