The warm aromatic spices will bring the whole family running into the kitchen for dinner.






Ingredients
10 mL (2 tsp) canola oil
1 medium onion, diced
10 mL (2 tsp) ground cinnamon
10 mL (2 tsp) ground cumin
10 mL (2 tsp) ground coriander
A pinch of chili flakes (optional)
2 cloves of garlic, minced
1 large or 2 small sweet potatoes, peeled + chopped (½ inch pieces)
375 mL (1 ½ cups) peas, frozen
1 can (750 mL/28 oz) no salt added tomatoes, crushed
750 mL (3 cups) no salt added vegetable broth
1 can (540 mL/19 oz can) no salt added chickpeas, drained and rinsed
Directions
In a saucepan, heat oil over medium heat and cook onion for 3 minutes or until softened. Add cinnamon, cumin, coriander, chili flakes (optional) and garlic and stir, cooking over low heat for about another 2 minutes.
Add sweet potatoes, frozen peas and tomatoes and stir to coat vegetables in spices and oil.
Add the vegetable broth. Bring to a boil, reduce heat and simmer until the sweet potatoes are tender (about 25 minutes).
Stir in the chickpeas and simmer another 5 minutes or until the sweet potatoes are soft with a fork.
Tips
Serve with brown rice or quinoa for a tasty meal.
Want leftovers for lunches? Double the recipe and freeze for up to 2 weeks.
Feel free to add more of your favorite vegetables in this stew. Try carrots, bell peppers and kale.
More from the Food Guide Kitchen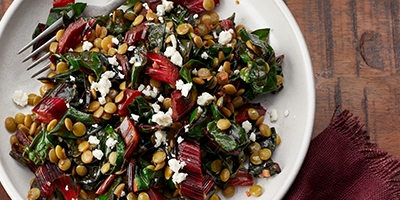 Subscribe to get the latest healthy eating updates.
Sign up now