This Asian-inspired recipe is full of flavour and your little chefs will surely love it.






Ingredients
Peanut butter sauce:
60 mL (¼ cup) natural peanut or almond butter or non-nut alternative
5 mL (1 tsp) minced ginger
2 cloves garlic, minced
45 mL (3 tbsp) rice wine vinegar
40 mL (2 ½ tbsp) lower sodium soy sauce
10 mL (2 tsp) sesame oil
2 mL (½ tsp) red chili flakes (optional)
Tempeh and noodles:
45 mL (3 tbsp) vegetable oil
1 package (250 g/9 oz) tempeh, diced
250 mL (1 cup) sliced red bell pepper
250 mL (1 cup) frozen edamame
250 mL (1 cup) thinly sliced carrots
225 g/8 oz soba buckwheat noodles
5 mL (1 tsp) sesame seeds (optional)
45 mL (3 tbsp) unsalted peanuts, roasted
Directions
Prepare the peanut sauce: In a large bowl, whisk together peanut butter, ginger, garlic, rice wine vinegar, soy sauce, sesame oil, and red chili flakes.
In a pot with a tight-fitting lid, heat 30 mL (2 tbsp) of vegetable oil over medium-high heat. Brown tempeh on all sides. Add 190 mL (¾ cup) of water, cover and steam for 5 to 7 minutes, until water is evaporated.
Remove tempeh from the pan and place in peanut butter sauce.
In the same pan, heat 15 mL (1 tbsp) of vegetable oil. Sauté peppers and carrots for 5 minutes. Stir in edamame to heat through. Remove from the pan and add to peanut butter sauce bowl.
Boil soba buckwheat noodles according to package directions. Reserve 125 mL (½ cup) of cooking water and drain. Add noodles and reserved water to the bowl with vegetables, tempeh, and sauce. Gently toss to coat.
Garnish with sesame seeds and peanuts. Serve immediately.
Tips
Kids can help prepare peanut butter sauce and chop tempeh.
Switch up the protein. Try tofu or shrimps instead of tempeh.
You can use whole wheat pasta if soba buckwheat noodles are unavailable.
To make this recipe nut free, use a non-nut butter instead of peanut butter, such as sunflower butter.
More from the Food Guide Kitchen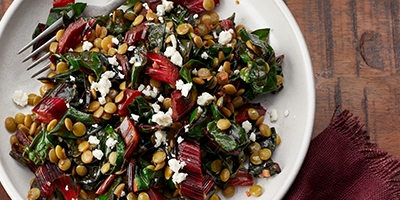 Subscribe to get the latest healthy eating updates.
Sign up now