Isn't it great when you can fit a healthy meal into one bowl? This salad is just that! Feel free to add in different chopped vegetables that you prefer.






Ingredients
Salad:
1 can (540 mL/19 oz) no salt added black beans, rinsed and drained
1 can (540 mL/19 oz) no salt added corn kernels, rinsed and drained
2 tomatoes, chopped finely
1 red bell pepper, diced
60 mL (¼ cup) cilantro, chopped
190 mL (¾ cup) cooked chicken, diced
Dressing:
15 mL (1 tbsp) lime juice (about ½ lime)
15 mL (1 tbsp) olive oil
2 mL (½ tsp) ground cumin
2 mL (½ tsp) garlic powder
Salt and pepper to taste
Directions
In a large salad bowl, combine black beans, corn, tomatoes, bell pepper, cilantro and cooked chicken.
In a small bowl, whisk dressing ingredients. Drizzle over top of salad and toss to coat.
Tips
Have leftover cooked quinoa or brown rice? Add some to your salad.
Your little chefs can help rinse the black beans and corn. Older kids can help measure and whisk the dressing ingredients.
Switch it up! Try chickpeas, lentils, or kidney beans instead of black beans. Remove the chicken for a vegetarian option.
Letting this salad sit in the dressing allows the beans to soak up the flavours. Make ahead and refrigerate for up to 3 days.
Remember, a little salt goes a long way. Taste the food before adding any salt.
More from the Food Guide Kitchen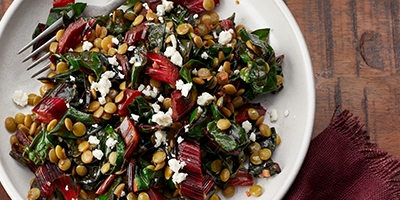 Subscribe to get the latest healthy eating updates.
Sign up now