This dish of braised lentils with greens is simple and packed with flavour. Serve this dish on its own, or use it as a base for grilled vegetables and meats.






Ingredients
500 mL (2 cups) dry brown or green lentils
45 mL (3 tbsp) olive oil
5 cloves garlic, smashed and chopped
1 bunch swiss chard, stems removed and thinly sliced, and leaves very thinly sliced (about 1 L/4 cups)
1 bunch cilantro, leaves and some stems, very finely chopped (about 250 mL/1 cup)
45 mL (3 tbsp) lemon juice (about 1 lemon)
45 mL (3 tbsp) pomegranate molasses
Salt and pepper to taste
Directions
Rinse the lentils. In a medium pot, place lentils and cover with a few inches of water. Cook for 20 to 30 minutes or until just tender.
In a large skillet, heat olive oil over medium heat. Add garlic and sauté for one minute. Add the chard stems and sauté for one minute. Add in the thinly sliced chard and sauté for another 2 minutes.
Add the cooked lentils, lemon juice, and pomegranate molasses and cook for 10 minutes or until the lentils are a bit mushy. Add water as needed to prevent mixture from drying out. Remove from heat and let cool slightly before serving.
Tips
If you don't have pomegranate molasses on hand, use 30 mL (2 tbsp) of balsamic vinegar.
Get creative! Once you serve yourself, try topping with an egg cooked sunny-side-up or crumbled light feta cheese and on brown rice.
You can replace the Swiss chard with another green vegetable, such as spinach.
Remember, a little salt goes a long way. Taste the food before adding any salt.
More from the Food Guide Kitchen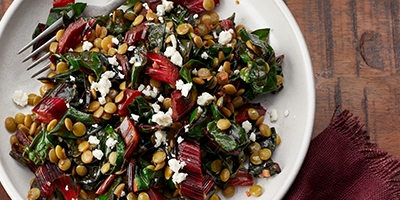 Subscribe to get the latest healthy eating updates.
Sign up now