This refreshing recipe makes for a beautiful side dish or appetizer. Serve on its own, in a pita or as a sandwich with romaine lettuce.






Ingredients
30 mL (2 tbsp) lime juice (about 1 lime)

20 mL (1 ½ tbsp) olive oil

2 mL (½ tsp) salt

1 mL (¼ tsp) black pepper

30 mL (2 tbsp) chopped fresh mint

1 cantaloupe, diced small

125 mL (½ cup) chopped bocconcini cheese

250 mL (1 cup) cherry tomatoes, halved

60 mL (¼ cup) thinly sliced red onion

60 mL (¼ cup) unsalted almonds, toasted and roughly chopped

60 mL (¼ cup) unsalted pumpkin seeds
Directions
In a large bowl, whisk together lime juice, olive oil, salt, pepper, and mint. 

Add cantaloupe, bocconcini, tomatoes, and onion.

Toss well and top with almonds and pumpkin seeds when ready to serve.
Tips
Kids of all ages can help you with this recipe. They can measure out all ingredients, chop bocconcini cheese, and halve cherry tomatoes.

Substitute almonds and pumpkin seeds for your favourite nuts and seeds.    

Replace fresh mint with 5 mL (1 tsp) dried mint.

Fresh lower fat mozzarella has a similar texture and taste to bocconcini. Just dice into bite-sized pieces.
More from the Food Guide Kitchen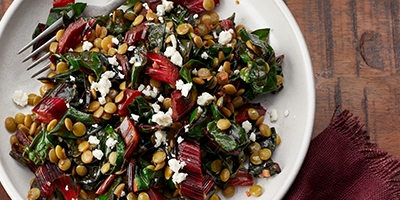 Subscribe to get the latest healthy eating updates.
Sign up now