This recipe is the alternative to a standard garden salad! Serve it hot or cold and turn your kitchen into a 5-star restaurant.






Ingredients
30 mL (2 tbsp) olive oil, divided

1 can (540 mL/19 oz) lower sodium chickpeas, drained and rinsed

2 mL (½ tsp) paprika

5 mL (1 tsp) dried thyme

5 mL (1 tsp) garlic powder

3 peaches, sliced in wedges

½ package (100 g/3.5 oz) halloumi cheese, sliced

500 mL (2 cups) cherry tomatoes, halved

1 mL (¼ tsp) dried basil

15 mL (1 tbsp) lemon juice (about ½ lemon)
Directions
In a non-stick pan, add 15 mL (1 tbsp) of olive oil and toast chickpeas over medium-high heat for 10 minutes or until golden.

Pour into a large bowl and toss with paprika, thyme, and garlic powder.

Pre-heat a grill pan or BBQ to medium-high heat. Grill peaches and halloumi cheese for 3 minutes to warm through, until there are grill marks.

Dice the halloumi cheese into smaller pieces and add to the bowl with spiced chickpeas along with grilled peaches. 

Stir in tomatoes, dried basil, and lemon juice. Coat with remaining 15 mL (1 tbsp) of olive oil.
Tips
Leftover roasted chickpeas? These make an awesome snack on their own, or as a topping in a protein and vegetable rice bowl. 

If peaches are not in season, swap for apples or pears! Ask your little chefs to help make choices.
More from the Food Guide Kitchen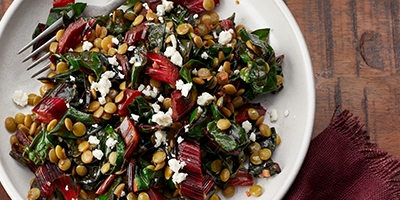 Subscribe to get the latest healthy eating updates.
Sign up now