Who doesn't love waking up to breakfast already made? Especially one that tastes like chocolate!






Ingredients
335 mL (1 ⅓ cups) rolled oats
250 mL (1 cup) skim milk or unsweetened fortified plant-based beverages
85 mL (⅓ cup) 0% plain Greek yogurt
1 ripe banana, mashed (about 125 mL/½ cup)
20 mL (4 tsp) maple syrup or brown sugar
15 mL (1 tbsp) cocoa powder
250 mL (1 cup) fresh or frozen raspberries
Directions
In a medium bowl, whisk together all ingredients except for raspberries. Spoon equally into 4 small jars or airtight containers.
Refrigerate for at least 4 hours, preferably overnight, before eating.
When ready to serve, top with raspberries.
Tips
In the morning, add crunchy toppings: fruits, unsalted nuts/seeds or cereal.
Little chefs can help you mix ingredients and distribute the mixture into the jars.
Eat overnight oats cold or warm. If you prefer it warm, add a bit more milk and heat up in the microwave before eating.
Switch it up! Use your favorite seasonal fruit. In the summer, try peaches, plums, or any type of berries.
More from the Food Guide Kitchen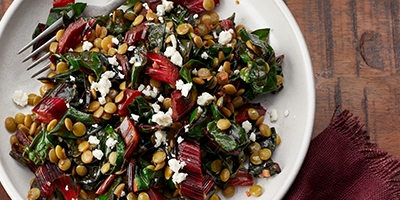 Subscribe to get the latest healthy eating updates.
Sign up now