This refreshing quinoa salad can be served warm or cold. Serve with canned sodium-reduced legumes such as chickpeas or red kidney beans (drained and rinsed of course!).






Ingredients
250 mL (1 cup) quinoa, rinsed well
440 mL (1 ¾ cups) sodium-reduced vegetable broth
1 clove garlic, minced
5 mL (1 tsp) chopped fresh thyme or 2 mL (½ tsp) dried thyme leaves
2 red, yellow or green bell peppers, seeded and quartered
1 carrot, peeled and sliced lengthwise
1 zucchini, sliced lengthwise
10 mL (2 tsp) vegetable oil
2 mL (½ tsp) grated lemon rind
1 mL (¼ tsp) ground pepper
60 mL (¼ cup) chopped fresh basil
30 mL (2 tbsp) cider or white wine vinegar
15 mL (1 tbsp) lemon juice (about ½ lemon)
Directions
In a non-stick skillet set over medium heat, toast quinoa, stirring frequently for about 5 minutes or until starting to pop. Pour in vegetable broth, garlic and thyme, stir and bring to a boil. Once boiling, reduce heat to low; cover and cook for about 15 minutes or until broth is absorbed; set aside.
Meanwhile, in a large bowl, toss together peppers, carrot and zucchini with oil, lemon rind and pepper. Place on greased grill over medium-high heat and grill, turning occasionally for about 10 minutes or until golden and tender crisp. Remove to cutting board and chop into bite-size pieces. Return to bowl.
Fluff quinoa with a fork and put into bowl with grilled vegetables. Stir in basil, vinegar and lemon juice until combined.
Tips
Store leftover salad in the fridge for up to 2 days. It makes a great lunch that's ready to pack in just minutes.
Quinoa is a whole grain that can be found in the grains, organic or natural section of your grocery store. Store in the freezer to keep it fresh for a long time.
More from the Food Guide Kitchen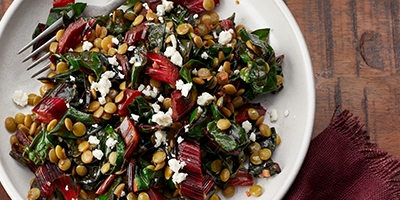 Subscribe to get the latest healthy eating updates.
Sign up now