This delicious soup is prepared with corn, squash, and beans. In some Indigenous communities, these crops are called the "Three Sisters" because they help each other grow when planted side by side.






Ingredients
10 mL (2 tsp) vegetable oil
1 onion, diced
4 carrots, chopped
4 cloves garlic , minced
4 stalks celery, chopped
2 L (8 cups) vegetable broth
1 butternut squash, peeled and cubed
375 mL (1 ½ cups) frozen corn
2 cans (2 x 540 mL/19 oz) no salt added kidney beans, drained and rinsed
10 mL (2 tsp) dried thyme (or 60 mL/4 tbsp fresh)
5 mL (1 tsp) ground pepper
Directions
Heat oil in a large saucepan. Add onion and sauté over medium heat, stirring often until golden, about 2 minutes.
Add carrots, garlic and celery and sauté for another 8 minutes, or until softened.
Add vegetable broth and bring to a boil.
Turn down heat and add cubed squash. Simmer, covered, for 8 minutes, stirring occasionally.
Add beans, corn, thyme and pepper. Stir and simmer another few minutes, until squash is soft with a fork.
Tips
Serve this soup hot with Bannock or crusty whole grain bread.
Want leftovers for lunches? Refrigerate for up to 2 to 3 days or freeze for up to 2 weeks.
Have a can of corn in the pantry? Use canned corn instead of frozen – make sure to drain and rinse it first.
More from the Food Guide Kitchen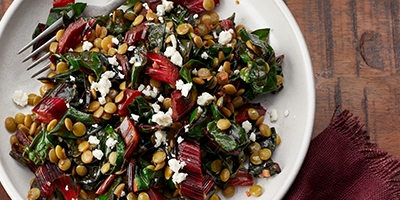 Subscribe to get the latest healthy eating updates.
Sign up now