These crispy fritters store well in the freezer for a quick appetizer, snack or side. It is a tasty way to add leafy greens to your day!






Ingredients
125 mL (½ cup) uncooked red split lentils

125 mL (½ cup) spinach, chopped finely 

1 egg

5 mL (1 tsp) curry powder

1 mL (¼ tsp) black pepper

15 mL (1 tbsp) onion powder 

2 mL (½ tsp) garlic powder

2 mL (½ tsp) baking soda

125 mL (½ cup) lower fat yogurt

85 mL (⅓ cup) whole wheat flour 

15 mL (1 tbsp) vegetable oil 
Cucumber Dipping Sauce: 
½ large cucumber 

125 mL (½ cup) lower fat yogurt

1 mL (¼ tsp) cumin 

1 mL (¼ tsp) chili powder

Salt to taste
Directions
Rinse lentils well, drain and place in a large microwave safe bowl with 500 mL (2 cups) water. Cover and microwave for 4 to 5 minutes or until lentils have softened. Carefully drain any excess water and allow to cool. 

Stir in spinach, egg, curry powder, black pepper, onion powder, garlic powder, baking soda, yogurt, and flour.

In a pan, add 5 mL (1 tsp) oil, swirl to cover pan, and heat over medium heat. 

Pan fry 30 mL (2 tbsp) fritters for 2 minutes per side. Repeat until all batter is used.

For the dipping sauce, grate cucumber into a bowl and squeeze out all excess liquid. Stir in yogurt, cumin, chili, and season with salt to taste.
Tips
Little chefs will be interested in helping you make this finger food recipe! Encourage them to prepare the dipping sauce. 

This recipe calls for split lentils. The outer skin of split lentils was removed prior to packaging, making it faster to cook than whole lentils.

If you don't have a microwave to cook split lentils, cook them on the stovetop for 5 to 7 minutes, until tender.  

Remember, a little salt goes a long way. Taste the food before adding any salt.
More from the Food Guide Kitchen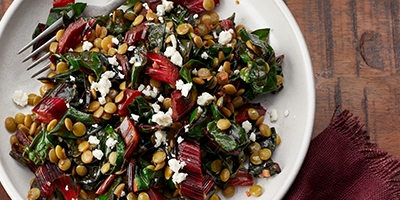 Subscribe to get the latest healthy eating updates.
Sign up now