This aromatic recipe will be enough to have the neighbours running over for dinner!






Ingredients
10 mL (2 tsp) vegetable oil
1 onion, chopped
3 cloves garlic, minced
15 mL (1 tbsp) fresh ginger, minced
1 small eggplant, chopped (about 90 g/3 oz)
15 mL (1 tbsp) curry powder
2 mL (½ tsp) cumin seeds
375 mL (1 ½ cups) lower sodium vegetable broth
1 can (540 mL/19 oz) no salt added lentils, drained and rinsed
1 tomato, diced
125 mL (½ cup) fresh cilantro leaves, chopped
Directions
In a saucepan, heat oil over medium heat and cook onion, garlic and ginger for 3 minutes or until softened.
Stir in eggplant, curry powder and cumin, sauté for 1 minute.
Add broth, lentils and tomato; bring to a simmer.
Cook, stirring occasionally about 15 minutes or until eggplant is very tender. Stir in cilantro to serve.
Tips
Look for firm Asian eggplant for best flavour and texture.
Like it spicy? Use a medium or hot curry paste or powder.
Want leftovers for lunches? Double the recipe and refrigerate extras for up to 3 days or freeze for up to 2 weeks.
More from the Food Guide Kitchen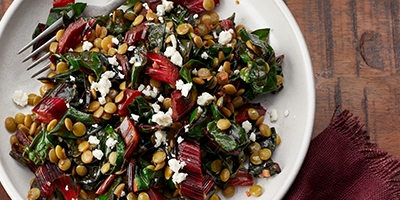 Subscribe to get the latest healthy eating updates.
Sign up now