This delicious French toast is wonderful to wake up to. Using bran flakes adds a creative crunch to traditional French toast.






Ingredients
125 mL (½ cup) skim milk
2 eggs
2 mL (½ tsp) orange zest
5 mL (1 tsp) vanilla
2 mL (½ tsp) ground cinnamon
250 mL (1 cup) bran flakes, crushed
4 slices whole grain bread
Pineapple Orange Topping:
5 mL (1 tsp) soft non-hydrogenated margarine
5 mL (1 tsp) granulated sugar
1 navel orange, peeled and chopped
250 mL (1 cup) diced pineapple
Directions
Preheated the oven to 120°C (250°F).
In a large bowl, whisk together milk, eggs, orange zest, vanilla and cinnamon. Place bran flakes on a plate.
Dip each slice of bread in egg mixture and coat both sides well. Then, dip one side into bran flakes.
Lightly spray a non-stick pan or griddle with cooking oil and heat over medium-high. Cook bread slices, bran flake side down, for about 3 minutes or until golden. Turn over and cook for another 2 minutes or until golden. Place French toast on a baking sheet and keep warm in preheated oven.
Meanwhile, in a separate non-stick pan, melt margarine and sugar over medium-high heat. Add orange and pineapple and bring to a simmer for 2 minutes to warm through.
Cut each French toast slice into 4 sticks and serve with pineapple orange mixture.
Tips
Make extra pieces of French toast and freeze uncut. Place them in a toaster to reheat on busy mornings.
Change up the topping by using fruits you have at home. Try using strawberries, blueberries, raspberries, apples or pears.
Ask your little chefs to help crack and beat eggs. Older kids can zest the orange.
Turn this breakfast into dinner by serving with hard boiled or poached eggs and a green salad. 
More from the Food Guide Kitchen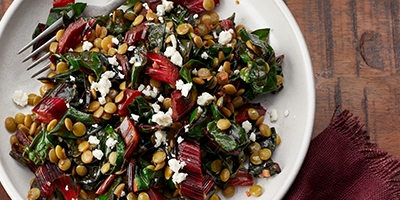 Subscribe to get the latest healthy eating updates.
Sign up now