This flavourful fruit salad is sure to satisfy your sweet craving and makes a great, healthy snack or dessert.






Ingredients
2 apples, cored and chopped
2 oranges, peeled and chopped
½ cantaloupe, seeded and chopped
2 pears, cored and chopped
30 mL (2 tbsp) lime juice (about 1 lime)
Directions
Add apples, oranges, cantaloupe and pears to a bowl. Squeeze lime juice over fruit. Toss together and serve immediately or chill until ready to eat.
Tips
Substitute with any fruit you have on hand. If using frozen fruit, let it thaw in the fridge first and drain excess water before using.
This is a fun recipe to make with the kids. Little chefs can help with peeling and squeezing.
Hosting dinner this week? Serve fruit salad as a delicious dessert with a dollop of lower fat plain yogurt.
More from the Food Guide Kitchen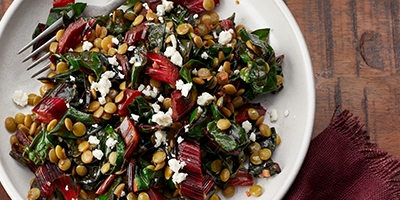 Subscribe to get the latest healthy eating updates.
Sign up now