These chicken sandwiches are great to use up leftover cooked chicken.  The crispness of red peppers and the freshness of lemon and cilantro fill the sandwiches with many flavours and textures.






Ingredients
750 mL (3 cups) shredded cooked chicken breast
2 green onions, thinly sliced
1 red bell pepper, diced
45 mL (3 tbsp) chopped fresh cilantro or basil
2 mL (½ tsp) grated lemon zest
30 mL (2 tbsp) lemon juice (about 1 lemon)
45 mL (3 tbsp) 0% plain Greek yogurt
30 mL (2 tbsp) light mayonnaise
125 mL (½ cup) light crumbled feta cheese (optional)
1 mL (¼ tsp) ground pepper
12 thin slices dense pumpernickel rye bread or whole grain bread
6 lettuce leaves
Directions
In a large bowl, combine chicken, onion, bell pepper and cilantro.
In a small bowl, whisk together lemon zest, lemon juice, yogurt and mayonnaise. Stir in feta, if using, and pepper. Pour over chicken mixture and stir to combine.
Divide mixture among 6 of the bread slices. Top with lettuce and remaining bread. Cut in half to serve.
Tips
Little chefs can stir together salad ingredients and assemble sandwiches.
The chicken mixture can be served in whole grain pita pockets or tortillas.
Add more colour and crunch by tucking in chopped cucumbers and tomatoes.
More from the Food Guide Kitchen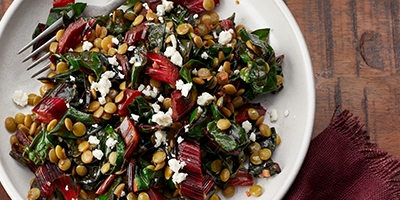 Subscribe to get the latest healthy eating updates.
Sign up now