This all-time lunch favourite will be transformed with a little extra colour and crunch. Keep hard-boiled eggs in the fridge to quickly prepare these easy sandwiches.






Ingredients
2 hard-cooked eggs, peeled
15 mL (1 tbsp) 0% plain Greek yogurt
15 mL (1 tbsp) light mayonnaise
Pinch of ground pepper
1 stalk celery, finely diced
60 mL (¼ cup) finely diced red bell pepper
1 green onion, thinly sliced (optional)
5 mL (1 tsp) chopped fresh dill or parsley or 1 mL (¼ tsp) dried dill weed
2 lettuce leaves
2 slices whole grain bread or dense pumpernickel dark rye bread
Directions
Prepare the boiled eggs: Place them in a single layer in saucepan and cover about 2.5 cm (1 inch) above eggs with water. Cover and bring to a boil over high heat. Remove from heat and let stand for 15 to 20 minutes. Drain water and run cold water over eggs to chill.
In a bowl, use a fork to mash eggs until crumbly. Stir in yogurt, mayonnaise and pepper. Add celery, red pepper, green onion if using, and dill; stir until combined well.
Place lettuce on bread slices and divide egg salad on top.
Tips
Little chefs will love to peel and mash hard-boiled eggs. 
Get a head start. You can make egg salad a day ahead, and just assemble sandwiches before serving.
Store hard-boiled eggs with their shells on in the fridge for up to 1 week.
More from the Food Guide Kitchen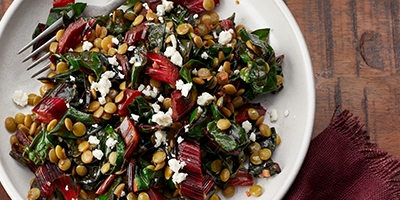 Subscribe to get the latest healthy eating updates.
Sign up now