This hearty soup is prepared with moist, succulent chicken thighs. It is sure to please as it's simple and fast for a weeknight meal.






Ingredients
6 boneless skinless chicken thighs (about 565 g/1¼ lb)
2 L (8 cups) water
2 sprigs fresh parsley
1 onion, chopped
1 carrot, chopped
1 clove garlic, minced
250 mL (1 cup) whole grain egg noodles
250 mL (1 cup) frozen peas
60 mL (¼ cup) grated Parmesan cheese
30 mL (2 tbsp) chopped fresh basil or parsley
Hot pepper sauce (optional)
Directions
In a soup pot or Dutch oven, bring water, parsley, onion, carrot, garlic and trimmed chicken thighs to a boil. Reduce heat to a simmer and spoon off any foam that forms on top. Cook chicken for about 15 minutes. Use a digital thermometer to check that the chicken has reached an internal temperature of 74 °C (165 °F).
Using tongs, remove chicken thighs to a clean cutting board. Let cool slightly and chop into bite size pieces. Return chopped chicken with noodles, peas, cheese and basil to broth; cook for about 5 minutes or until noodles are tender. Add a splash of hot sauce to each bowl if desired.
Tips
Include your kids in the kitchen! Ask them to help measure some ingredients and grate Parmesan cheese.
Double this recipe and portion soup into individual servings for easy meals that are ready to go. Store in the fridge for up to 3 days or freezer for up to 4 months.
More from the Food Guide Kitchen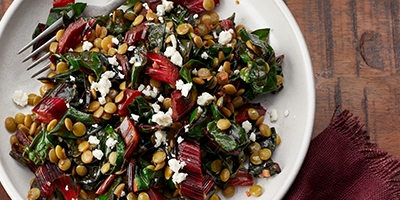 Subscribe to get the latest healthy eating updates.
Sign up now