Squash is a versatile vegetable that can take on any flavour. Try this sweet and savoury recipe as a colourful side dish or over brown rice as a tasty main course.






Ingredients
15 mL (1 tbsp) canola oil

1 onion, minced

1  mL (¼ tsp) ground cumin

15 mL (1 tbsp) curry powder

2 garlic cloves, minced

1 L (4 cups) sodium-reduced vegetable broth, divided

1 medium butternut squash, peeled and diced (about 900 g/2 lb)

1 can (540 mL/19 oz) no salt added chickpeas, drained and rinsed

1 can (540 mL/19 oz) no salt added diced tomatoes, with juice

250 mL (1 cup) frozen mango, thawed and chopped 

Salt and pepper to taste
Directions
In a large pot, heat oil over medium heat.  Add the onion and cumin and cook for 3 minutes, stirring frequently.

Add the curry powder and cook for 2 more minutes, stirring to keep from burning.

Add garlic and 500 mL (2 cups) of broth and bring to a simmer.

Add the remaining broth, squash, chickpeas, and tomatoes to the pot.  Bring back to a simmer and cook covered, for 25 minutes, stirring occasionally. 

Add mango and cook for 5 minutes. Serve hot over brown rice.
Tips
To boost up the vegetable content, add minced carrot at step 2 and minced celery at step 3.

To switch up the flavour, try using 125 mL (½ cup) raisins instead of the frozen mango. 

Store leftovers for up to 3 days in the refrigerator or up to 3 months in the freezer. If frozen, thaw in the refrigerator overnight and heat to a serving temperature of 165 °F (74 °C) or higher. 

Remember, a little salt goes a long way. Taste the food before adding any salt.
More from the Food Guide Kitchen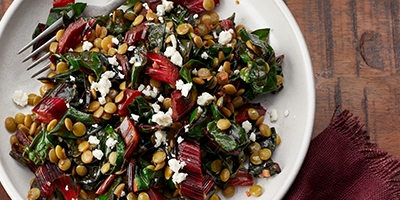 Subscribe to get the latest healthy eating updates.
Sign up now