This kale and chickpea curry is a quick and easy way to make a rich, flavourful dish. Serve with brown rice or wholegrain flatbread.






Ingredients
30 mL (2 tbsp) vegetable oil
1 green chili, thinly sliced
2 cloves garlic, peeled and thinly sliced
5 mL (1 tsp) cumin seeds
1 onion, peeled and thinly sliced
750 mL (3 cups) kale, stems removed and finely chopped, leaves roughly torn
5 mL (1 tsp) ground coriander
2 mL (½ tsp) turmeric powder
2 mL (½ tsp) cayenne powder
1 can (540 mL/19 oz) no salt added chickpeas, drained and rinsed
100 mL (⅓ cup + 1 tbsp) light coconut milk
Salt to taste
Directions
In a pan, heat oil over medium-high heat. Add sliced chili, garlic, and cumin seeds and cook for 15 to 20 seconds, then add onions and chopped kale stems. Sauté for 1 minute or until onions are soft but not browned. Add kale leaves and sauté until wilted.
Add ground coriander, turmeric powder and cayenne powder. Stir to combine well and coat kale in the spices. Add chickpeas and 250 mL (1 cup) of water, and cook for 5 minutes.
Add coconut milk and simmer for another 5 minutes, then remove from heat.
Serve and enjoy!
Tips
If you don't have light coconut milk on hand, try replacing it with 100 mL (⅓ cup + 1 tbsp) of tomato puree.
Looking for something to add to this meal? Place the curry mixture on top of brown rice or quinoa.
For extra zing, top your food with fresh lemon juice before serving.
Remember, a little salt goes a long way. Taste the food before adding any salt.
More from the Food Guide Kitchen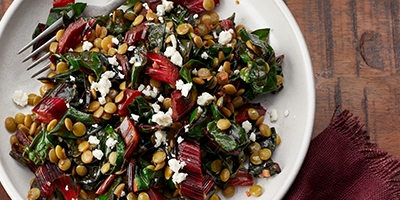 Subscribe to get the latest healthy eating updates.
Sign up now