This simple recipe is great to pack in your lunch for school or work. Use canned tuna from your pantry cupboard and get these wraps ready in no time. This protein food has a long shelf life and can be used in a variety of recipes.






Ingredients
1 can (120 g drained weight) light flaked tuna in water, drained
15 mL (1 tbsp) mayonnaise
5 mL (1 tsp) yellow mustard
5 mL (1 tsp) lemon juice
1 celery stalk, finely chopped
60 mL (¼ cup) green pepper, finely chopped
2 mL (½ tsp) black pepper
2 leaves romaine lettuce, washed and dried
2 whole grain tortillas
Directions
In a medium bowl, use a fork to combine tuna, mayonnaise, mustard and lemon.
Add celery, green pepper and black pepper to the tuna mixture and mix until well distributed.
Place 1 lettuce leaf on each tortilla.
Scoop half of the tuna mixture onto each wrap and roll up.
Tips
Pack your lunch box with this tuna salad wrap, lower fat plain yogurt topped with berries, and a leafy green salad.
Spice up your tuna salad by adding 2 mL (½ tsp) of curry powder.
No wraps? No problem. Use whole grain bread to make a sandwich or serve with whole grain crackers.
Little chefs can make this recipe for their lunch by mixing ingredients and scooping tuna salad into wraps.
More from the Food Guide Kitchen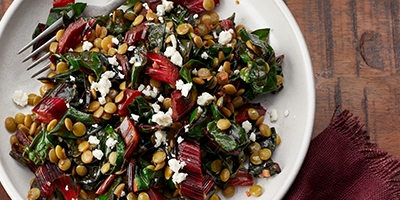 Subscribe to get the latest healthy eating updates.
Sign up now