This meal offers a tasty mix of ground chicken and tofu with Chinese-inspired flavours. It is a great option to introduce tofu to your kids' palettes.






Ingredients
45 mL (3 tbsp) sesame oil

5 mL (1 tsp) chili flakes

454 g (1 lb) ground chicken

15 mL (1 tbsp) chopped ginger

15 mL (1 tbsp) chopped garlic

15 mL (1 tbsp) tomato paste

45 mL (3 tbsp) lower sodium soy sauce

500 mL (2 cups) lower sodium vegetable broth

15 mL (1 tbsp) cornstarch

60 mL (¼ cup) water

1 package (400 g/14 oz) medium-firm tofu, cubed

60 mL (¼ cup) sliced green onion
Directions
In a large pan, heat sesame oil over medium heat. Add red chili flakes and toast for a few seconds. 

Add ground chicken to the pan and cook until browned. Stir in ginger and garlic and cook for an additional 2 to 3 minutes. 

Mix in tomato paste, soy sauce, and vegetable broth. Let simmer to reduce by half. 

In a small bowl, mix together cornstarch and water. Stir into the sauce and simmer on low heat for 2 minutes. The sauce will slightly thicken.

Gently stir in tofu and green onions. Cook for 5 minutes until the tofu has just warmed through. 
Tips
Serve over brown or wild rice, in whole wheat tortillas, or in lettuce wraps.

Littles chefs can help plan recipes by checking the fridge and cupboards for ingredients. 

Steam bok choy or other vegetables while the sauce is simmering to make it a complete meal.

Switch up the protein. Ask your kids to help you choose between chicken, beef or pork.
More from the Food Guide Kitchen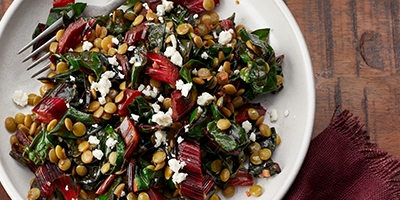 Subscribe to get the latest healthy eating updates.
Sign up now