This tasty pasta recipe is prepared with secret ingredients - creamy ricotta and colourful vegetables. Serve with salad on the side.






Ingredients
1 package (375 g) whole grain rotini or fusilli
10 mL (2 tsp) extra virgin olive oil
1 zucchini, grated
1 carrot, grated

½

red bell pepper, finely sliced
15 mL (1 tbsp) dried oregano
5 mL (1 tsp) dried basil
1 jar (700 mL) passata (strained crushed tomatoes)
125 mL (

½

cup) water
45 mL (3 tbsp) chopped fresh parsley or basil
250 mL (1 cup) light ricotta cheese
30 mL (2 tbsp) grated Parmesan cheese (optional)
Directions
In a pot of boiling water, cook pasta for about 8 minutes or until tender but firm. Drain well and return pasta to pot; set aside.
Prepare the pasta sauce: Meanwhile, in a large and deep nonstick skillet, heat oil and cook zucchini, carrot, pepper, oregano and basil over medium heat for about 5 minutes or until starting to turn golden. Stir in passata, water and parsley. Bring to a boil and simmer for 5 minutes.
Stir in ricotta, Parmesan cheese (optional), and pasta.
Tips
Ask little chefs for ideas on what pasta shape to use. Have fun looking at all the options at the grocery store.
Switch it up! Spread pasta mixture into a casserole dish and sprinkle top with shredded lower fat mozzarella. Bake in 200°C (400°F) oven for about 10 minutes.
Make a double batch of pasta sauce and use on busy nights. Store in the freezer for up to 2 months.  Reheat on the stove or in the microwave.
Do you have meat lovers at home? Add cooked lean ground beef at step 3. 
More from the Food Guide Kitchen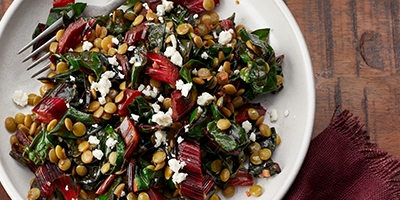 Subscribe to get the latest healthy eating updates.
Sign up now