This hearty pasta dish uses cashews to create a creamy and delicious sauce.






Ingredients
375 mL (1 ½ cup) unsalted cashews

750 mL (3 cups) water

22 mL (1 ½ tbsp) vegetable oil

1 onion, diced

2 cloves garlic, minced

1 L (4 cups) frozen butternut squash cubes

750 mL (3 cups) spinach

5 mL (1 tsp) salt

1 mL (¼ tsp) black pepper

1 package (400 g) firm tofu, crumbled

1 lemon, zest and juice

7 mL (1 ½ tsp) dried oregano

1 mL (¼ tsp) red chili flakes

1 package (340 g) whole wheat jumbo pasta shells

125 mL (½ cup) lower fat shredded mozzarella cheese
Directions
Preheat the oven to 200 °C (400 °F). Place cashews in a microwave safe dish and add 500 mL (2 cups) water. Microwave for 2 minutes and set aside. 

In a large pan, heat 15 mL (1 tbsp) oil on medium heat. Sauté onion and garlic until softened. Add butternut squash, spinach, salt and black pepper. Stir and reduce to low heat. Continue cooking until squash is tender and cooked through.

Remove ⅓ of the butternut squash and place in blender along with soaked cashews and its soaking water. Set aside to cool.

For the filling, crumble tofu into pan with remaining squash. Add lemon zest, lemon juice, oregano, and chili flakes. Mix together and set aside to cool.

Once cashews have cooled, blend until smooth to create a cream sauce. Adjust consistency with more water if necessary.  

Cook shells according to package directions and add 7 mL (½ tbsp) oil to the water to prevent shells from sticking together. 

Spread a thin layer of cashew sauce on the bottom of a large oven safe casserole dish. Stuff each shell with 15 mL (1 tbsp) of the butternut squash mixture and tightly pack into dish. 

Pour the remaining cream sauce over shells and sprinkle with cheese. 

Bake in preheated oven for 15 to 20 minutes or until cheese has melted.
Tips
Serve with a garden salad. Ask your little chefs to help wash and cut vegetables. 

Little chefs will enjoy crumbling the tofu into a large bowl.

Freeze leftovers for a quick and simple dinner on a busy night! Just thaw the night before in the fridge.
More from the Food Guide Kitchen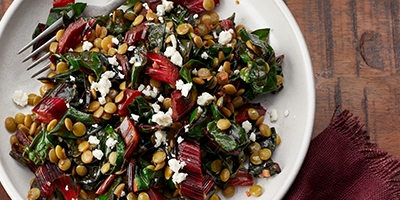 Subscribe to get the latest healthy eating updates.
Sign up now