This delicious weeknight meal comes together with little effort. Apples, with their touch of sweetness, are a perfect complement to pork chops. Serve with salad and mashed sweet potatoes or brown rice.






Ingredients
5 mL (1 tsp) vegetable oil
2 cloves garlic, minced
5 mL (1 tsp) dried thyme leaves
1 mL (¼ tsp) ground pepper
4 boneless pork loin chops (about 450 g/1 lb)
2 red skinned apples, cored and sliced
125 mL (½ cup) sodium-reduced chicken or vegetable broth
5 mL (1 tsp) Dijon mustard
2 mL (½ tsp) cornstarch
Directions
In a bowl, combine oil, garlic, thyme and pepper; add pork chops and rub mixture all over.
Heat a large non-stick skillet over medium-high heat and brown pork chops on both sides. Remove to plate and add apple slices to pan; cook, stirring for 2 minutes.
Whisk together broth, mustard and cornstarch; pour into skillet. Stir to coat apples. Return pork chops to skillet and cook, turning once, for about 3 minutes. Use a digital food thermometer to check that the pork has reached an internal temperature of 71 °C (160 °F).
Tips
Save money by buying larger packages of pork loin chops. Freeze extras for up to 1 year for another meal.
Switch up the type of apple. See what's available at your grocery store or farmers' market.
Take this recipe to a whole new level by swapping out apples for pears.
More from the Food Guide Kitchen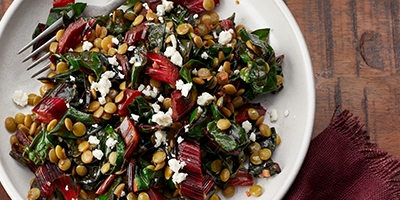 Subscribe to get the latest healthy eating updates.
Sign up now