These crunchy fruit and nut bars are quick to make on the weekend. Enjoy on busy weekdays!






Ingredients
1 L (4 cups) wheat, rice, or Kamut puffs

45 mL (3 tbsp) chia seeds

60 mL (¼ cup) unsalted pumpkin seeds

45 mL (3 tbsp) cacao nibs or mini chocolate chips

85 mL (⅓ cup) natural peanut or almond butter or non-nut alternative

85 mL (⅓ cup) honey
Directions
Line a 20x20 cm (8x8 inch) square pan with parchment paper and set aside. 

In a large bowl, mix together puffs, chia seeds, pumpkin seeds, and cacao nibs.

In a microwave safe bowl, add peanut butter and honey. Microwave in 20-second intervals stirring in between each interval until mixture is smooth and pourable. 

Pour warm peanut butter mixture over puff mixture and mix well.

Press mixture into the pan and place in the freezer for 30 minutes. 

Cut into 12 portions.
Tips
Little chefs can help measure and mix ingredients, and pour into the pan. 

Prepare a school safe, allergen-free snack. Try using non-nut butter instead of peanut butter, such as sunflower seed butter. 

Get creative! Mix and match combinations of dried fruits, nuts, and seeds.

Store leftovers in the refrigerator for up to 1 week.
More from the Food Guide Kitchen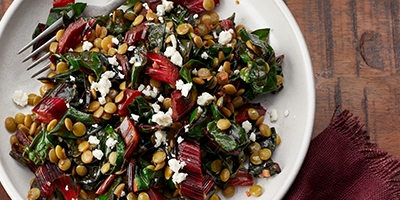 Subscribe to get the latest healthy eating updates.
Sign up now