This Mediterranean-inspired meal is a quick escape to Greece. A mix of delicious herbs and spices brings the lentils and tofu in this meal to life!






Ingredients
1 package (400 g/14 oz) extra firm tofu

10 mL (2 tsp) dried oregano

2 mL (½ tsp) dried thyme

10 mL (2 tsp) garlic powder

10 mL (2 tsp) onion powder

2 mL (½ tsp) black pepper

4 mL (¾ tsp) salt

1 mL (¼ tsp) cumin

1 mL (¼ tsp) paprika

30 mL (2 tbsp) vegetable oil

1 can (540 mL/19 oz) lentils, drained and rinsed
Turmeric rice:
500 mL (2 cups) water

2 mL (½ tsp) turmeric powder

375 mL (1 ½ cups) uncooked brown rice
Garlic sauce:
1 clove garlic, minced

125 mL (½ cup) lower fat yogurt

½ mL (⅛ tsp) onion powder

Pinch of cumin
To serve:
2 tomatoes, sliced

½ large cucumber, sliced
Directions
Preheat the oven to 175 °C (350 °F) and line 2 baking sheets with aluminum foil. 

Cut tofu into 2.5 cm (1 inch) slices and place on one of the baking sheets.

In a medium bowl, mix together oregano, thyme, garlic powder, onion powder, black pepper, salt, cumin, paprika, and vegetable oil. Brush ¾ spice mixture onto tofu and place in the oven for 20 minutes.

Toss lentils in remaining spice mixture and spread onto the other baking sheet. Bake for about 13 minutes, until a little crispy. 

In a small pot with a lid, bring water and turmeric to a boil. Add brown rice, cover and return to a simmer. Cook for 20 minutes or until the water is absorbed. Fluff with a fork. 

In a small bowl, mix garlic, yogurt, onion powder, and cumin. Serve sauce with tofu and lentils.
Tips
Serve with vegetables - grilled, roasted, or fresh will make the perfect side.

Tofu is a great food for kids to safely practice their chopping skills with a plastic, kid-friendly knife.

Skip the rice and wrap in a whole wheat tortilla for a portable meal.

These roasted lentils make for a great protein-rich snack! Eat leftovers on their own or add to a salad.
More from the Food Guide Kitchen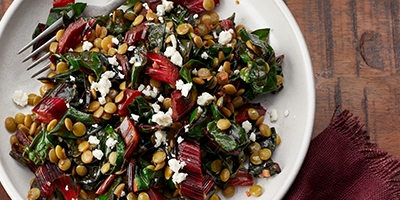 Subscribe to get the latest healthy eating updates.
Sign up now