This curry recipe is versatile! You can easily substitute carrots or squash for the sweet potato. Serve with whole grain flatbread and yogurt for a quick, easy meal.






Ingredients
30 mL (2 tbsp) vegetable oil, divided
5 mL (1 tsp) black mustard seeds
3 whole dried red chilies
4 fresh or dried curry (neem) leaves
1 onion, finely diced
2 cloves garlic, finely chopped
3 sweet potatoes, peeled and chopped into a 1-inch dice
1 small handful fresh coriander, finely chopped (about 60 mL/¼ cup)
Salt to taste
Directions
In a high-sided sauté pan, heat oil over high heat. Add mustard seeds, chilies, and curry leaves and sauté for 30 seconds to release flavours.
Add onions and sauté for 2 minutes or until just lightly browned. Add garlic and stir to combine. Sauté for another 3 minutes or until onions soften.
Add sweet potatoes and stir to combine and coat well. Reduce heat to medium and cook for 20 to 30 minutes or until tender.
Sprinkle coriander on top ​​and serve.
Tips
Bump up the protein content of this dish by adding tofu or lentils.
Want more flavour? Add 7 mL (½ tbsp) of natural almond or peanut butter or non-nut alternative to your dish.
Remember, a little salt goes a long way. Taste the food before adding any salt.
More from the Food Guide Kitchen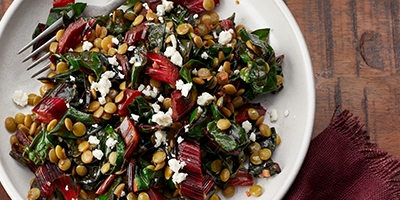 Subscribe to get the latest healthy eating updates.
Sign up now