These nuggets are a healthier version of the beloved fast-food chicken nugget. They will surely win over the hearts of the whole family.






Ingredients
20 mL (1 ½ tbsp) vegetable oil

1 package (250 g/9 oz) tempeh, cut into 16 strips

190 mL (¾ cup) water

1 egg

125 mL (½ cup) breadcrumbs

5 mL (1 tsp) paprika

5 mL (1 tsp) onion powder

5 mL (1 tsp) garlic powder

1 mL (¼ tsp) salt

2 mL (½ tsp) black pepper
Chipotle dipping sauce:
60 mL (¼ cup) lower fat yogurt

2 mL (½ tsp) chipotle powder or paprika

1 clove garlic, minced

1 mL (¼ tsp) salt
Directions
Preheat the oven to 190 °C (375 °F) and line a baking sheet with aluminum foil. Set aside. 

In a pot with a lid, heat oil over medium-high heat. Add tempeh and brown on each side. Add water, cover and steam until water evaporates. 

Remove the pot from heat and allow to cool. 

Set up a breading station: In a small bowl, whisk egg and set aside. In a second bowl, mix breadcrumbs, paprika, onion powder, garlic powder, salt, and black pepper. 

Gently dip cooled tempeh into whisked egg and roll it in breadcrumbs to coat. Transfer to the baking sheet.

Bake for 15 minutes until golden brown. 

Prepare the dipping sauce: In a small bowl, mix together yogurt, chipotle powder, garlic, and salt.
Tips
Serve as an afternoon snack or turn into lunch by serving with vegetables.

Get the kids involved in coating tempeh with breading mixture.

This breading technique can be applied to other proteins like tofu or chicken.
More from the Food Guide Kitchen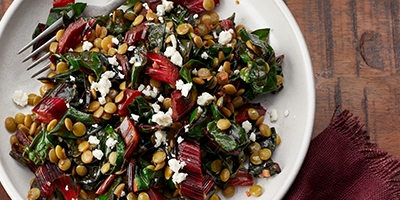 Subscribe to get the latest healthy eating updates.
Sign up now