These creamy and colourful wraps come together in very little time. The crisp red bell peppers and lettuce add crunch. You can prepare the bean filling ahead of time and assemble the wraps just before you're ready to eat.






Ingredients
1 can (540 mL/19 oz) white kidney beans, drained and rinsed
60 mL (¼ cup) chopped reconstituted sundried tomatoes (see tip)
60 mL (¼ cup) chopped fresh parsley
1 clove garlic, minced
1 mL (¼ tsp) ground pepper
1 avocado, diced
1 small bell pepper, diced
15 mL (1 tbsp) cider vinegar
1 small head Boston leaf lettuce
1 carrot, grated
Directions
In a large bowl, mash beans until coarse using a potato masher or fork. Stir in tomatoes, parsley, garlic and ground pepper until well distributed. Gently fold in avocado, bell pepper and vinegar.
Spoon bean mixture into lettuce leaves and sprinkle with carrot to serve.
Tips
Prepare sundried tomatoes: Place in a bowl and pour boiling water over top. Let it stand for about 3 minutes or until tender and soft. Drain water and chop sundried tomatoes.
Little chefs can mash beans, prepare bean mixture, and fill their own lettuce leaves.
Avocados turn brown quickly so cut them up just before using them.
Bump up the colour in this recipe with sliced radishes or quartered cherry tomatoes.
More from the Food Guide Kitchen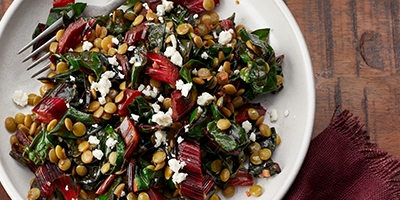 Subscribe to get the latest healthy eating updates.
Sign up now